I t is my conclusion that arguments about the existence of God are vapid, useless, and unresolvable. They are an example of the kindergarten stages of religious de-conversion. They represent a desire to be free of the hierarchical constraints of religion, and the misbehavior of religious authorities, by intellectually whacking the "boss." But they are a dead end—and miss the real problem entirely. Disbelieving in God does absolutely nothing for your ethics.
"Does he or doesn't he exist," plays right into the hands of religious power structures by creating a permanently untestable, and binary proposition. Which sets up preposterous philosophical rabbit-holes like Pascal's Wager. An equally pointless statement of behavioral economics, that merely builds on the original default assumption of divine existence.
Why do we even consider such questions? Because our fear of death gives them unearned power over us. We should stop, and set them aside, the "ignostic" position. But it's not that simple. I'm not just calling this argument incoherent, I'm also calling it a red herring.
Usually when people argue for God's existence, they fall quickly into the same kind of thinking ancient humans must have used when they found themselves confronted with volcanic lightning. "What the fuck is going on here? Here's this huge scary thing I don't understand, and it's happening right here, right now. Let me give it a personality, so I can attempt to explain it in terms of human behavior, something I do understand."
This "God of the gaps" is alive and well today, as a useless non-explanation for all sorts of unknowns. Because "God" is a greater unknown. It's not worthy of a second thought, because it just moves the problem around.
Entertaining the controversy of the existence or non-existence of a deity brings the credibility of the idea from zero—a storybook fantasy—to a potential 50% probability: A supreme being named Yahweh exists or doesn't exist. Harry Potter exists or doesn't exist. Both are equally irrelevant. The claim that "God" is more relevant only holds water because most people believe that—like lightning, earthquakes, and volcanoes—"He" is to be feared.
Should we fear equally that we might someday be on the business end of Harry Potter's wand? I think not. If you believe there's a difference between the plausibility of these two fears, the only possible reason is because you were socialized from birth to fear God, and not socialized to fear cinematic magicians.
Atheist Morality?
And what of the results? Have atheists become a shining example of morality? Hell, no. We don't even need to consider that old religious canard, rattling off the millions of deaths caused by "godless communism." It wasn't atheism that caused those deaths, after all. It was the quite predictable cults of power and personality surrounding unaccountable dictatorships. Which sounds a helluva lot like a form of religion to me.
But we do have plenty of examples of scientifically-trained atheists who espouse "enlightenment values" behaving badly and causing harm, in modern democracies.
I'm speaking about the moral collapse of the 21st century atheist movement, along with its pretense to have seized the high ground from religion in the early 2000s. "Good without God"—right. It didn't take long for that to unravel. In 2011, Elevatorgate touched off a reckoning. Rebecca Watson made a small request, to have her safety concerns at a conference taken seriously. Instead, many men in the movement attacked her, and accused her of blowing the incident out of proportion. For a time, I was sadly on that bandwagon. It took me a few years to recognize the larger implications, and to own up to how wrong I was.
It was actually a profound test for all of us. And many failed. It's the same test we face over and over in society, to see if people are capable of understanding the concept of privilege. It's the same test as to whether we white men can recognize how different the world is generally, for women and people of color. The same test we face when someone says "Black lives matter," whether we respond in solidarity, or clap back "all lives matter." Ugh.
The atheist movement failed the test. It splintered between those who wanted to maintain the frat-boy atmosphere, and those who sought to bring non-belief into a full flowering of welcoming, accountable Humanism, with justice and equality and inclusion. The most powerful male voices in the movement dug in. And that failure set movement figures on their current course.
Elevatorgate wasn't an anomaly. Many of us have since recognized those we thought were luminaries had always been reactionaries in disguise. Among them, is Richard Dawkins, author of The God Delusion. He made a good case in 2006 for the non-existence of a deity. He wrote many classics on evolutionary biology including The Selfish Gene and The Greatest Show on Earth. But what did he accomplish, ethically? In 2021, he was stripped of his 1996 Humanist of the Year award for vile comments he made regarding gender essentialism—and he's unrepentant. Most recently he's gone after Critical Race Theory, posting a bothsidesing, waters-muddying article on the subject from Center For Inquiry's Angel Eduardo. I recently unfollowed Dawkins on Twitter. Because I already hear enough of that filth, without having to see it cosigned by one of my former heroes.
This is painful.
And what is Center For Inquiry doing smack dab in the middle of the right-wing CRT psyop? I used to implicitly respect them. This is Carl Sagan's and Paul Kurtz' organization, dammit! This is the organization from which D.J. Grothe hosted Point of Inquiry from 2005-2009, a profound show that deeply influenced me.
In recent years, though, CFI has tripped over its institutional biases. Throughout its merger with the Richard Dawkins Foundation and subsequent defense of Dawkins, it has made grievous social-justice missteps. An article titled The Center for Inquiry Still Doesn't Understand White Supremacy, by Kavin Senapathy, demonstrates the difficulty that a woman of color encountered, when she was trying to be a good skeptic and devote her intellect to the cause of—inquiry! For daring to challenge CFI's institutional dogmas, and demanding representation for diverse viewpoints, she was fired from hosting the Point of Inquiry podcast, and years of her contributions on CFI's website were scrubbed, then later awkwardly restored.
Why does justice seem to be so goddamn difficult for atheists and atheist organizations? Why are they still stuck in their Eurocentric, male perspectives?
Prominent atheists other than Dawkins, such as Steven Pinker, Lawrence Krauss, and Sam Harris have also flirted with, if not entirely embraced hard-right positions on race and gender issues, to varying degrees.
We also can't forget the spectacular collapse of vocal atheist Bill Maher. He's fallen from his high water mark in the film Religulous, where he rightly criticized religion's role in historic conflicts, and embarrassed quite a few Christian blowhards. In my view, he should have bowed out on top, at his 25th anniversary. Instead he's doubled down on his "Politically Incorrect" libertarian roots with cranky vaccine skepticism, ritualized huffing and puffing about "free speech," "wokeism" and "cancel culture," while platforming and rubbing elbows on his show with right-wing pariahs like Sean Spicer, (who still refuses to admit Joe Biden won in 2020), and saving his most savage remarks for liberals. He's made his sympathies clear.
Ayaan Hirsi Ali left Islam and became an atheist, only to join the American Enterprise Institute, a pro-capitalist, pro-fossil-fuel, pro-war think tank, and marry right-wing provocateur Niall Ferguson. As a woman of color, she fell in with those closely associated with hyper-capitalism, the Christian right, implicit white supremacy, and neoconservatism. (AEI has been home to Newt Gingrich, Antonin Scalia, Dinesh D'Souza, Milton Friedman, Dick Cheney, John Bolton, Paul Wolfowitz, and many other Bush-era architects of the Iraq War). So Ali escaped terrible abuse under one form of misogynistic ultra-conservatism, and then embraced another form of misogynistic ultra-conservatism?
And then there's the growing anti-anti-racism—that is to say, racism—within members of the former atheist movement who sit on the board of FAIR (Foundation Against Intolerance and Racism). An Orwellian name for an organization that openly promotes anti-wokeness, in 2021 parlance.
In a typical bad-faith right-wing move, the FAIR site appropriates the names and likenesses of Abraham Lincoln, Martin Luther King, and Frederick Douglass in service of its racist ends. Does that accusation shock you? What else can anyone conclude? If wokeness means awareness of social justice issues, then anti-wokeness means active opposition to social justice. What's truly shocking that people who claim superior intelligence can possibly miss this point. I'm sure they have a facile explanation for their doublethink. And I for one have no interest in hearing it.
Here are the FAIR board members: Michael Ajouz, Ayaan Hirsi Ali, Peter Boghossian, Liang-Fang Chao, Melissa Chen, Yiatin Chu, Daryl Davis, Angel Eduardo, Lisa Feldsher, Niall Ferguson, Kmele Foster, Tim van Gelder, Samantha Harris, Jason D. Hill, Nathan Hoffman, Coleman Hughes, Inaya Folarin Iman, Zaid Jilani, Zander Keig, Megyn Kelly, Alan Charles Kors, Alexander Lloyd, Glenn Loury, Maud Maron, John McWhorter, Douglas Murray, Steven Pinker, Robert Pondiscio, Wilfred Reilly, Ian Rowe, Michael Shermer, Abigail Shrier, Erec Smith, Eli Steele, Andrew Sullivan, Bari Weiss, Thomas Chatterton Williams, Kenny Xu.
If you're someone involved for the past 20 years in atheist activism, you found a lot of familiar names on that list. There's also heavy intersection here with those involved in founding the new privately-funded non-academic "University of Austin," (UATX) that claims to teach "forbidden courses," but doesn't confer degrees. It's being backed by a large grant from Peter Thiel, who's also spending a fortune to back Trumpist candidates including J. D. Vance. "University of Austin" is full of refugees from liberal bastions, like former New York Times culture writer Bari Weiss, who whined and railed against "illiberalism" and "cancel culture" in her "resignation letter" from the Times. (Which was not-exactly-voluntary, after the not-exactly-voluntary resignation of her boss). Of course that kind of performative outrage is part of the bona-fides for the roster of a Ministry of Enlightenment and Propaganda so far to the right, it's embarrassing that it's allowed to use the moniker "university." It's been called a "rogue's gallery," and compared to PragerU, another right-wing non-academic propaganda mill, that also doesn't grant degrees.
And there's overlap between these groups and the Manhattan Institute, founded by William Casey, Reagan's CIA director. The rabbit hole goes even deeper at the COSM conference currently underway in Bellevue Washington, where Peter Thiel, and Niall Ferguson, who is also on the FAIR and UATX boards, Mark Mills, senior fellow at the Manhattan Institute, are hobnobbing with the likes of Newt Gingrich and practically the entire board of—gasp—the Discovery Institute! That infamous group is the home of the "teach the controversy" strategy to keep creationism in science class! Are ya kidding me? These strange bedfellows and interlocking directorates are enough to give anyone whiplash. Association doesn't of course determine guilt. And no doubt there's a range of opinions represented within each of these groups, and distance between them. But there's an awful lot of right-wing smoke. So there's—without doubt—fire.

How easy would it be to avoid such entanglements, if these organizations were truly liberal in their purpose? Why aren't there interlocking board members between FAIR and the ACLU, the SPLC, or the NAACP? Why is Megyn Kelly the "journalist" on their board and not Don Lemon? Why the hell would Steven Pinker lend his name to a nightmare agitprop factory like UATX? I think the answer to all these questions is more than clear.
Say it ain't so! I've been friends with, and interviewed, and had lunch with several of these people. I've read their books. As someone who once counted myself privileged to be in their company, this unapologetic turn toward racism, gender essentialism, and yes I'm going to say it—fascism—by the leaders of the atheist-skeptic movement, is downright horrifying. We're in the second worst crisis of democracy in US history, and this is where the atheist bigshots landed?
The siren song of power yet calls.
Injustice Can Be Traced To Unearned Hierarchies
Humanism at its core is the recognition that all humans are equal in dignity. We share 99.99% of DNA, our planet, our only home, and are members of the same species. Due to random chance, there are inequalities of genetic outcomes. These are arranged on Bell curves, as we've discussed in many episodes of The Radical Secular podcast. But these inequities can be mitigated with rational public policy. And that is our central credo.
If inequities CAN be mitigated, they MUST be mitigated.

For many of us who still consider ethics to be of the highest importance, the transition from mere disbelief to a more activist secularism / humanism involves the recognition that our disgust with religion actually reflects disgust with unearned hierarchies generally. A God character can't possibly be the problem, since humans created the very idea of Him. The problem is therefore entirely human abuse of power.
"God" is merely a scapegoat. The top dog in an arbitrary moral hierarchy used by conservatives to justify perpetuating the cruel and barbaric world of social Darwinism they want to inhabit. And they use the power of the state, through relentless lobbying and campaign contributions, and emotional blackmail through the systematic distribution of media falsehoods, to enforce their desires.
After seeing the wholesale GOP embrace of Trump, and his "stolen election" narrative, and the January 6, 2021 insurrection, it's become abundantly clear conservative desires to enforce their hierarchy are incompatible with anything resembling democracy.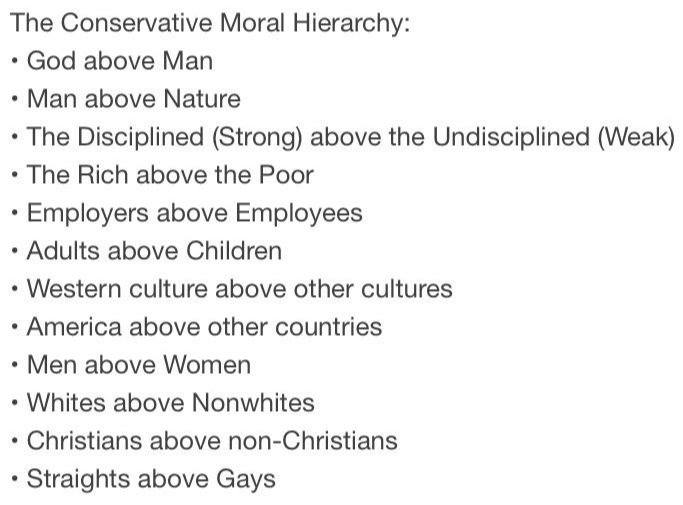 Arguments over the existence of God, therefore, are really arguments about which social hierarchies should prevail. Lakoff's list is incomplete. We can add many more to the conservative moral hierarchy, which includes big doses of victim-blaming, ranging from the absurd and outrageous, to the trivial:
Cisgender above Transgender
TERFs (Trans-exclusionary radical feminists) above Gender-inclusive feminists
Housed above Unhoused
Clean / Sober above Addicts
The Healthy above The Sick
Native Born above Immigrants (except Indigenous Americans)
People with deep local roots above Newcomers / Nomads
Loyalty above Justice
Family above Friends ("Blood is thicker than water")
Unconditional Love above Transactional, accountable relationships
Old Money above New Money
Castes, i.e. Brahmins above Untouchables
Stylish above Frumpy
Attractive above Plain
Thin above Fat
Tall above Short
Femme above Butch (for women)
Macho above Femme (for men)
Mothers above Childless women
White Collar above Blue Collar (unless you're referring to educated "elites" then this reverses)
Blue Collar above Artists
Conventional above Avant Garde
Neoclassical Architecture above Modern Architecture
Rural above Urban
Conservative clothing above Revealing clothing
Makeup above No Makeup (unless it's too much makeup, or the woman is too young, then this reverses)
Clean Skin above Tattooed
Why can't we accept people for who they ARE, rather than ranking them based on characteristics, or whether they conform to our preconceived notions of "the way things oughtta be?"
The consequences of the application of this unearned hierarchy over the past 500 years have run the gamut from full-on colonialist genocide, and environmental injustice, to petty everyday backbiting, cruelty, and micro-aggressions. People lose jobs, friends and marriages over this stuff. We are a poorer, meaner, sicker nation over this stuff. We're losing a livable climate, and our standing in the world over this stuff.

The bias toward conservatism that is widespread in society (even among many "liberals"), permeates and poisons everything. And a person's ranking on this hierarchy has absolutely nothing to do with that person's measurable, economic, academic, artistic, humanistic, or social value. And less than nothing to do with whether or not they deserve to be treated with dignity. EVERYONE deserves dignity, no exceptions. Even and especially the ones you might believe do not.

You may "see" other people, but you don't SEE other people. You don't know a person's value, life experience, or struggles. Getting judged and down-ranked for daring to upset the approved hierarchy can further destroy a struggling person's self-worth, even though they've done nothing hurtful to anyone. And that's a grievous harm indeed. Words matter. Ideas matter. Judgments matter.

Cut it out. Learn to consciously invert the hierarchy. Lift up the underdog. Call out and take down bullies. Keep your trap shut if you don't have something good to say about someone with less power than you. If for no other reason than you might need someone to return the favor someday. Remember, most people are about 3-4 paychecks from being unhoused. Even if you're financially secure, addiction or illness or accidental injury can take anyone. You might someday find yourself in a tough spot you never imagined possible.

So be merciful.
Unearned Hierarchy Destroys Meritocracy
Unearned hierarchies are designed to keep people in their place, and are therefore the enemy of a real meritocracy, something conservatives pretend to support—but don't. It would stand to reason that any person of good will would want every other person to rise to the level of their highest potential. Win-win, right? But that's not how it works. Because it turns out most of us don't actually want a meritocracy. Most of us believe in the "just-world" fallacy, that everyone is where they belong. It took me a lot of contemplation, and reading of Corey Robin's The Reactionary Mind, and watching a video called "Always A Bigger Fish," for me to accept that painful lesson. People talk a great game of wanting everyone to flourish, but in the end they'll slap you down if you rise too much, or too conspicuously, or too quickly.
Against this backdrop, no one seems to care all that much that layabout scions from the rentier class, whose parents have successfully lobbied for decades against paying their fair share of taxes, are often rewarded with cushy no-show jobs, or millions in gifts or loans to start companies—if they work at all. And there are much more capable people, given the same resources, who could accomplish a great deal more. As Steven Jay Gould said "I am, somehow, less interested in the weight and convolutions of Einstein's brain than in the near certainty that people of equal talent have lived and died in cotton fields and sweatshops."
Ouch.
Once you begin to recognize the pervasive nature of the conservative moral hierarchy, you'll eventually see it everywhere, in everything. Dictating behavior, causing anxiety and shame, robbing society of talent, and ruining lives. It's the dystopian opposite of Rawls' veil of ignorance. People on the upper rungs of the ladder know exactly where they're going to land, and they make sure they have it all, and that those below them barely scrape by. Because that's what hierarchy does. "Self-aggrandizement by the most powerful among us," is another way to describe feudalism. We're nearly there.
This is also the cultural roadmap for what it means when comics punch down, taking advantage of their place in the existing hierarchy to raise their own status by appealing to the very worst instincts of their audiences. Jokes about those lower on the moral hierarchy than the performer are always mean-spirited, and never funny. And there's an absolute wealth of untapped material comics can use, if they want to punch up. They'd be doing a public service. But instead many comics sell out to the conservative moral hierarchy, finding a more lucrative, more intense audience willing to defend them, when they race to the bottom, dragging society with them.
Power rules. And power makes the rules. The higher you go on the conservative moral hierarchy, the more socially acceptable it becomes in certain circles, to take unfair advantage of those on the lower rungs. So white men, of course, are always to be believed, and given the benefit of the doubt. Those lower on the ladder are automatically suspect. This plays out in everything from the gross failure to test thousands of rape kits, to police murders of people of color, to the (shocking but not) disparity in the national response when a white person goes missing, vs a non-white.
And it's not a coincidence, that so many famous atheists who are also white and male, have found themselves rejecting "God" but supporting the rest of the conservative moral hierarchy. All the "Western civilization" and "anti-wokeness" dog whistles in the world can't elide the contradiction. The idea of treating those on the lower rungs as equals, absolutely terrifies them. They can't process it.
I consider myself an atheist, for whatever that's worth. But I don't talk much about the question of God's existence or atheism on the podcast, nor do my co-hosts. Because our primary identity and focus is humanist and secularist, promoting inclusion. In this article, I speak only for myself. My own personal conclusions about God are along the lines of Russell's Teapot. As I asserted, the framing of the question of God's existence is both incoherent and disingenuous. It's a non-evidentiary, non-falsifiable question that speaks more loudly to participation or non-participation in a social construction, than it does to reality. And I therefore don't think that outside of a false justification for hierarchy, the concept of God really matters at all.
It's null.
Because what we do understand, and what we do know is that this Earth, and this life, are the only ones we know for sure we'll ever have. And justice in this life for these people who are alive now, is therefore our primary concern. So the question is never, "Do you believe in God?" The question is always, "Do you support justice?" And that is why we are so adamant about separation of church and state. Because we see the corrosive intrusion of narrow sectarianism in public life. How are non-believers and those in minority religions supposed to react to the constant public pronouncements that "America is a Christian Nation?"
During the Covid pandemic, we've seen Christian politicians willing to perform egregious human sacrifice, to retain power. Opposing vaccinations. Demanding (and getting) lockdown exemptions to allow their services to become superspreader events. In any sane civilization those would be criminal acts. They are genocide by any definition of the word. How many of the nearly 800,000 Covid victims in the United States would be alive today if churches had meticulously complied with mask mandates, vaccinations and lockdowns, from the very beginning? Could be 100,000—or possibly many more. We'll never know.

What would a merciful God do about an infectious disease? Demand that people gather and worship Him, putting their lives and families at grave risk? I think not. So God doesn't matter. Not to church leaders, or worshippers. What matters to them? Ego, money, personal power, social ties, and defying their political opposition.
We at The Radical Secular would rather err on the side of caution. As we've discussed on several episodes, we'd rather support God-believing politicians like Joe Biden or Barack Obama, Hillary Clinton, Martin Luther King, or Reverend Warnock. Because they support social justice, and sound economics, and public health.

Trump on the other hand, is almost certainly an atheist. He never cared one bit about the Bible or religion. He dabbled with Norman Vincent Peale, and put in occasional appearances. But never made a big deal about his faith, until it became useful for his political ambitions. Then he courted the Evangelicals as if he were running loose in the dressing room at the Miss Universe pageant.
And that's the all-important difference.
You Don't Need To Be An Atheist (But It Sure Does Help)
It's arguable that the human brain has some inherent need to hold some kind of personal belief in god, or at least a dualistic concept of the universe, or the uniqueness of our own consciousness, what Daniel Dennett calls Cartesian Gravity. This likely evolved to help us overcome a paralyzing fear of death.
Religious myths helped humans to cooperate during the establishment of civilization. So anyone railing against God, and dualism, and religion ends up needlessly running into a firestorm of opposition. Because this drive toward magical thinking is sadly a part of our evolved mental makeup. A lot of people lose their minds when they contemplate their existence as mortal mammals.
We at The Radical Secular believe evolution to be strictly true, and believe that truth must be taught. But we are much less concerned about people accepting their mortality and animal nature and finite lifespans. Believe what you want. We care much more about how the systems of our society and polity, help or harm human flourishing. We care much more about getting people to support positive, systemic action. Religious believers can support the "care of creation," to demand climate mitigation measures. Or they can support kindness and The Golden Rule and "turn the other cheek," in order to justify their efforts toward social democracy, and racial equality.
It turns out that the flavor of religious dogma really does matter in terms of public policy. If you're an Evangelical who supports prosperity-gospel nonsense to justify tax cuts, disaster capitalism, and continued burning of fossil fuels—not to mention opposing public health measures—you're the enemy of humanity. You are actively causing harm. You're killing people. It's not your God-belief, though. It's your self-serving dogma and sense of entitlement.
The same Bible that prosperity-gospel charlatans use to justify their grift, can also yield a strong motivation toward community cooperation and stewardship. We think you shouldn't need scripture to care about your fellow human beings, but if reading only the good parts of scripture and rejecting the rest is what it takes for you to become a good humanist—well then have at it. Choose the parts of scripture that reflect those superior ethics. Whatever it takes.
Religion is a special system where the broader issue of unearned hierarchy comes into sharp focus, through the belief in an omnipotent God. Adopting atheism can be one aspect of your personal journey to dismantle that hierarchy and adopt an egalitarian ethic. But it's not enough. Knocking out the top dog, still leaves a whole lot of other dogs of hierarchy poised to bite. All of them must be fought! And if you can fight them without abandoning your God-belief, then so be it.
Though ostensibly God forms the basis of, and justification for, the lower rungs of the hierarchy, it's the lower rungs that directly hurt humans. If we can get rid of the lower rungs, and build a society of total inclusion, then God no longer matters. Without the rest of those damaging rungs, Yahweh is as meaningless to humanity as Zeus or Thor or Harry Potter: A storybook superhero, receding into our collective memory hole, with the thousands of other man-made gods, in the mists of deep time.